Chinese New Year is celebrated in pretty much the same way as Christmas: a lot of festivities, a lot of family gatherings and a lot of food. This year on the week leading up to the start of the Chinese New Year period, I decided to make two batches of cookies using cornflakes. One is a traditional CNY cookie recipe, while the other is a less-traditional cookie recipe that is famously sold in
Momofuku Milk Bar
, a place I have been
raving
about.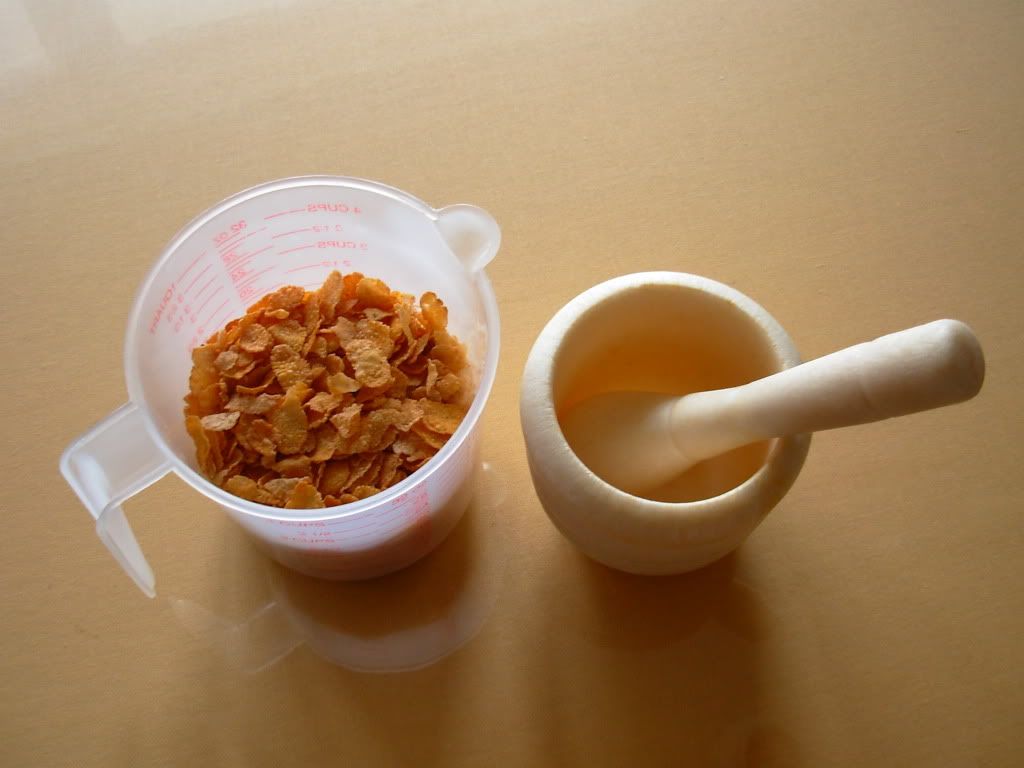 Cornflakes ready for crushing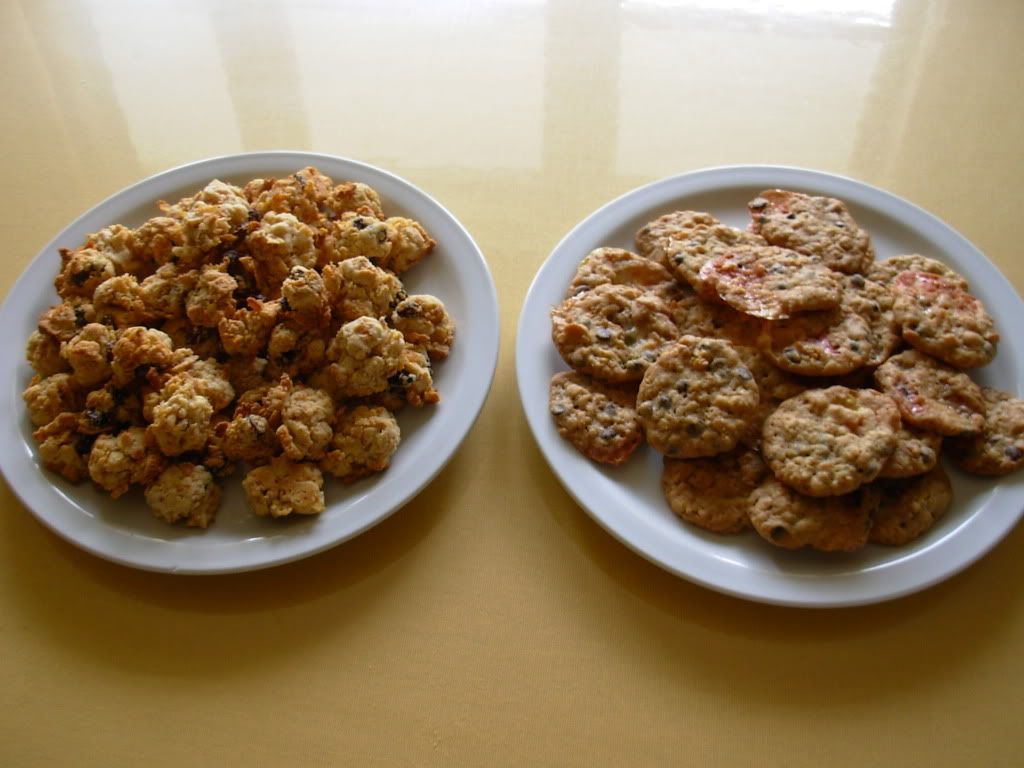 Two batches of cornflake cookies. The batch on the right had more cookies than the one on the left.
Cornflake and Raisin Cookies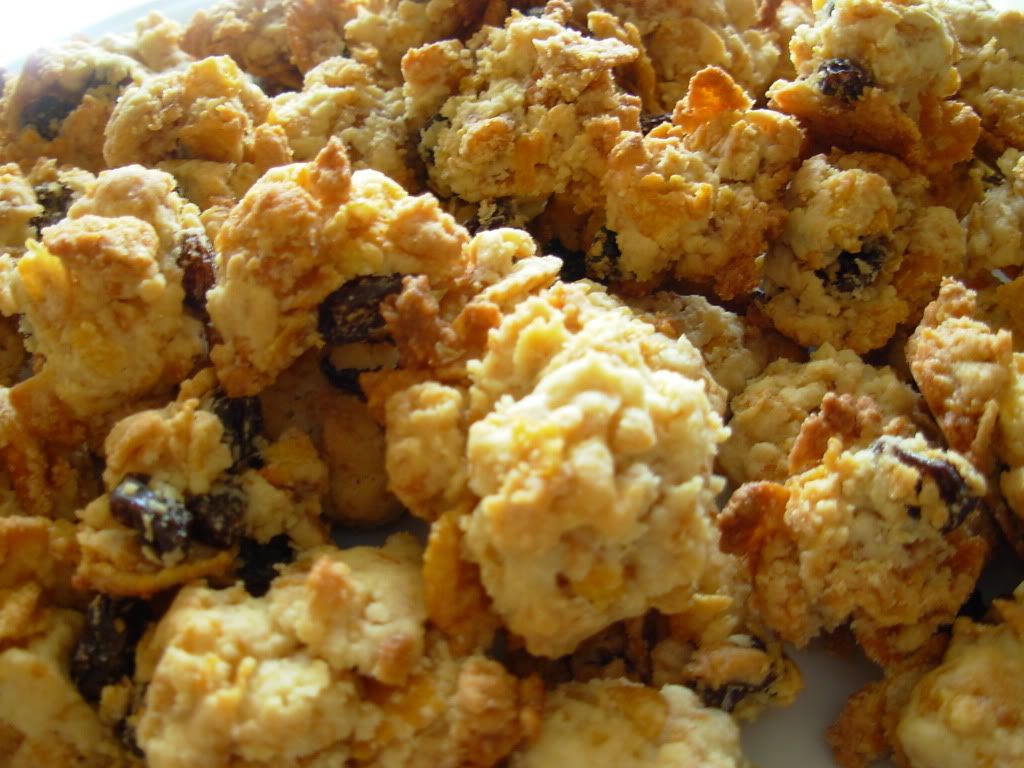 175gm butter

3/4 cup sugar

2 eggs

1 tsp vanilla extract

2 1/4 cup plain flour

1 tsp baking powder

1/2 cup milk powder

3-4 cups fairly crushed cornflakes (5 cups before crushing)

1/3 cup sultanas/raisins
Preheat oven to 180C.
In one mixing bowl, cream butter and sugar until light and fluffy.
Add eggs, vanilla essence and milk powder. Mix.
In another bowl, sift flour and baking powder . Mix in crushed cornflakes and sultanas.
Add in egg/butter/sugar mixture, and mix until combined. (If mixture is too dry, you'll have to add more softened butter or even margarine.)
Roll into balls and place onto lined baking tray. Press down gently for a flat surface.
Bake for 12mins or until golden brown.
Cool on wire rack before storing in air-tight containers.
Copycat Momofuku Cornflake-Marshmallow-Chocolate Chip Cookies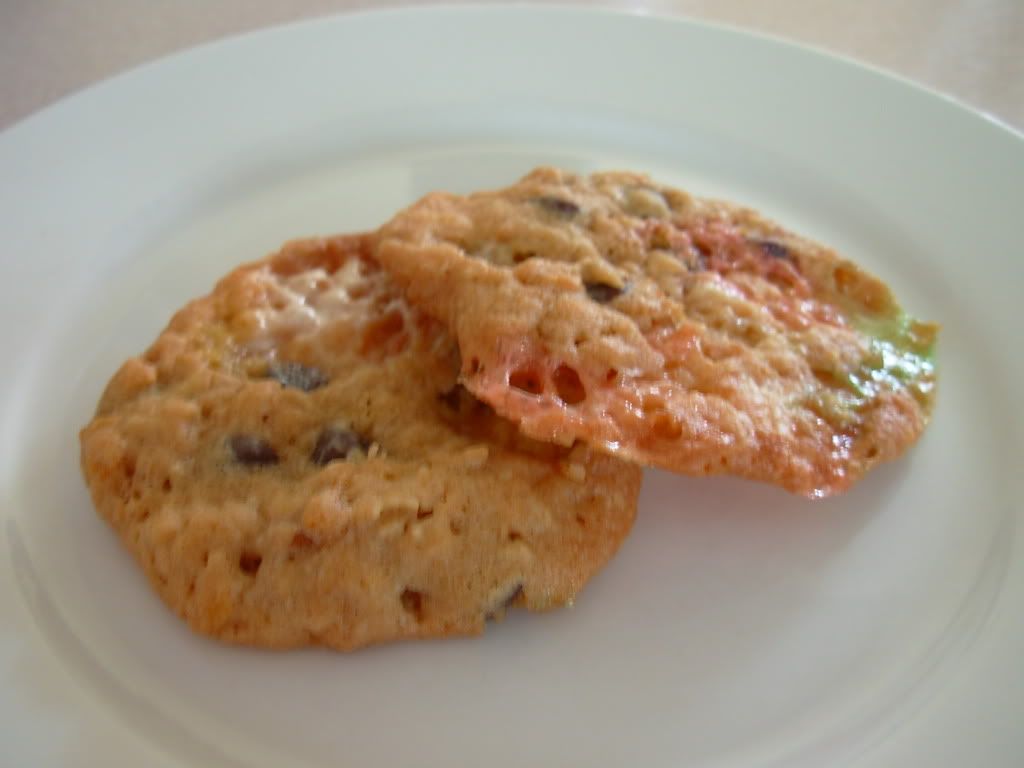 2 sticks unsalted butter at room temperature (227gm)

1 1/4 cup packed dark brown sugar

1/3 cup granulated sugar

2 eggs

2 tsp vanilla extract

1 3/4 cups all-purpose flour

1 tsp baking soda

1/2 tsp baking powder

1 1/2 tsp kosher salt (plus more for sprinkling)
3/4 cup oatmeal

[I used rolled oats]

1 1/4 cup lightly crushed cornflakes (about 1 1/2 cup cornflakes before crushing)

2/3 cup chocolate chips

about 3/4 cup mini marshmallows
Preheat the oven to 180 degrees. In a mixing bowl, beat together the butter, brown sugar, and granulated sugar until light and fluffy, about 2-3 minutes on medium speed. Add the eggs and vanilla extract, and beat until combined.

Add the flour, baking soda, baking powder and salt and beat on low speed, just so the dry ingredients become incorporated. With a wooden spoon, mix in the oatmeal, crushed cornflakes, and chocolate chips.

(If you have time and would like the cookies to spread a little less, refrigerate the dough for two hours.)

On a parchment-lined baking sheet, scoop up and roll the dough into golf ball-sized spheres. (Six will fit comfortably on one pan–give them room to spread!) Lightly press down 4 mini marshmallows in the center of each ball of dough.

[I mixed in the marshmallows with the dough]

Sprinkle tops with a touch more salt. Repeat with the remaining dough.

Bake for 9-10 minutes. The cookies will still look soft in the middle when you take them out of the oven. Allow them to cool directly on the tray for a few minutes before moving them onto a platter.
Makes 20 cookies.

[I made about palm-sized cookies]